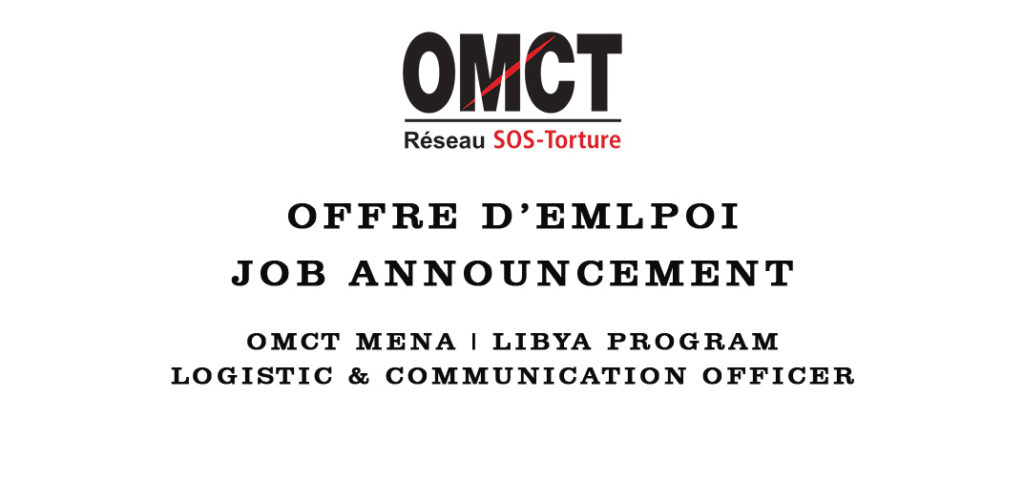 OMCT MENA is seeking to recruit a Logistic & Communication Officer for its Libya program "RESILIENT – Reinforcing Stakeholders In Libya to Engage against Torture".
Location: OMCT MENA office in Tunis
Conditions: Full-time position. 1-year contract (renewable).
About OMCT
The World Organisation Against Torture (OMCT) is an international, independent, non-governmental organization, founded in Geneva in 1985. Its international secretariat is based in Geneva, with offices in Brussels and Tunisia. The OMCT works with around 200 member organizations, which constitute its SOS-Torture Network, and together we make up the largest global movement actively standing up against torture in more than 90 countries, including in the MENA region. Helping local voices to be heard, we support our vital partners in the field and provide direct assistance to victims. The OMCT is a member of the European Human Rights Defenders Protection mechanism (ProtectDefenders.EU) and has consultative status before the United Nations Economic and Social Council (ECOSOC). The Mission of the OMCT is to contribute to the eradication of torture, summary executions, disappearances, arbitrary detention and other cruel, inhuman or degrading treatment or punishment and to provide protection to victims and potential victims through a global network of civil society organizations working in partnership and solidarity.
About OMCT's program in Libya
The OMCT is launching a new project in Libya that aims at tackling torture and institutionalized violence by state and non-state actors through capacity-building, empowerment, and advocacy.
Responsibilities of the Logistic & Communication Officer:
OMCT Libya Logistics and Communications Officer will work under the supervision of OMCT Libya Program Coordinator and in close cooperation with OMCT Tunisia Administrative team and with the other members of OCMT Libya team.
He/she will overall management/supervision of logistics, including procurement, assets follow ups, communication/IT, and stock.The post holder is also responsible for digital content creation and management, and for developing and maintaining the online presence of WOAT Libya on its future website, social media and partner websites.
Main Responsibilities:
Logistics
Support in logistics of events (in Tunisia or Libya) and office needs, including obtaining quotes, liaising with vendors, and finalizing agreements in coordination with the Finance Officer;
Provide general office support to help ensure the smooth functioning of the programme team of WOAT Libya.
Provide logistical supports with regard to: venues booking, accommodation, arranging transportation, airport pick-ups and all other logistical arrangements related to the implementation of OMCT Libya projects.
Ensure procurement files are up to date and appropriately filed/stored to facilitate easy and quick access as needed;
Receives and distributes invoices to finance officer;
Ensure that all assets are registered and codified with numbering (refer to the inventory details);
Ensure that asset is given to users, after completion of "Asset Reception Form";
Make sure assets are all in good condition.
Ensure that e-mail, and IT equipment are functioning properly
Send monthly reports to program coordinator which Includes – (asset follow up, stock situation report, Communication report);
Ensures that procedures and compliance requirements are duly fulfilled;
Any other related tasks as may be required or assigned by the supervisor.
Communication
Support the project coordinator in:
Development and implementation of the digital communications and the social media strategy;
Develop and maintain media relations, including preparing press materials as required, with Tunisia and Libya-based and regional media professionals;
Producement compelling digital content (news, articles, etc.) that communicates OMCT's core objectives and narrative.
Support the production of publications, including editing and the preparation of materials for OMCT's online platforms.
Collate analytics and metrics on OMCT communications and submit quarterly analysis reports;
Management, and oversee all appropriate publications and communication materials.
Work closely with Libyan local partners in order to adapt the project communications to local contexts.
Knowledge preferred and Qualifications
Minimum Degree Required: Bachelor's degree or equivalent
At least 2 years of professional work experience at the national and/or international level in administration, logistics, and communication; experience working in/on Libya is an asset;
Fluency in English and Arabic; French is an asset;
Solid overall computer literacy, including proficiency in various MS Office applications (Excel, Word, etc.) and email/internet; familiarity with database management;
Knowledge and experience of website/social media management is desirable
Passion to provide a good user experience, good content and tactics to convert readers into advocates.
Excellent interpersonal skills; culturally and socially sensitive; ability to work inclusively and collaboratively with a range of partners; familiarity with tools and approaches of communications for human rights;
Application
The OMCT is an equal opportunities employer.
Applications for this position should be sent (by email only) to OMCT at rs@omct.org by 15/01/2021. For consideration, please send a cover letter, a CV and the contact details of two professional references, indicating "OMCT MENA – Logistic & Communication Officer " as your message subject. Only shortlisted candidates will be notified.